Awutu Senya District Assembly is made up of 1 Urban Council namely Senya, 5 Area Councils which are Bawjiase, Jei-Krodua, Awutu Bereku, Bontrase and Obrachire. It has 25 elected and 11 appointed members.  There is a Member of Parliament and District Chief Executive (DCE) bringing the total number to 37.  Currently, 10 out of the 11 decentralised departments have been established at the District level.
The Assembly is empowered with legislative, deliberative and executive functions within the district. There is a Presiding Member who is elected from the Assembly Members and chairs all Assembly meetings and the Public Relations and Complaints committee (PRCC).
Awutu Senya District Assembly has five statutory sub- committees namely; Justice and Security, Development Planning, Works, Social Services and Finance and Administration. There is an Executive Committee which reviews the work of the sub-committees before the General Assembly meeting.  The Executive Committee, which is made up of the chairpersons of the various sub-committees is chaired by the District Chief Executive.
The District Assembly has secretariat that administer the day to day work of the Assembly. The secretariat is largely manned by bureaucrats and technical officers who perform various specified and interrelated roles aimed at achieving the mission and vision of the District Assembly. The District Chief Executive is the head of the secretariat with support from the head of the bureaucrats-the District Co-ordinating Director (DCD).  Read More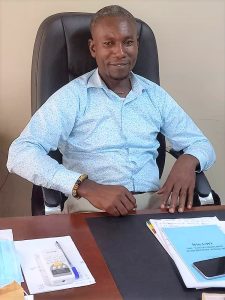 HON. JOSEPH AIDOO
DISTRICT CHIEF EXECUTIVE
MRS.EUNICE NAALIER
DISTRICT COORDINATING DIRECTOR
MRS.EVELYN ARHIN
DISTRICT BUDGET ANALYST
MR. ISAAC GODWIN KWASI ACQUAAH-ARHIN
DISTRICT EDUCATION DIRECTOR
MRS.NANCY EKYEM
DISTRICT HEALTH DIRECTOR